INSPIRE University Transportation Center
The INSPIRE UTC held its annual meeting August 4-7, 2019 at the Hyatt Regency At the Arch in St. Louis, Missouri. Activities included technical research presentations by invited keynote speakers and distinguished guests; plenary and concurrent technical sessions; an INSPIRE UTC executive business meeting; a panel discussion with practitioners, researchers, and industry representatives; bridge test demonstrations on the Stan Musial I-70 bridge; and the Graduate Student Poster Session and awards ceremony.
---
Technical Program
The 2019 Annual Meeting included the following presentations:
SENSING AND NONDESTRUCTIVE EVALUATION
UAV-enabled Measurement for Spatial Magnetic Field of Smart Rocks in Bridge Scour Monitoring, Dr. Genda Chen, Missouri S&T
Battery-free Antenna Sensors for Strain and Crack Monitoring of Bridge Structures, Dr. Yang Wang, Georgia Institute of Technology
In-line Long Period Grating and Brillouin Scattering Fiber Optic Sensors for Strain, Temperature, Chloride Concentration, and Steel Mass Loss Measurement in Bridge Applications, Dr. Genda Chen, Missouri S&T
3D Microwave Camera for Concrete Delamination and Steel Corrosion Detection, Dr. Reza Zoughi, Missouri S&T
Hyperspectral Image Analysis for Mechanical and Chemical Properties of Concrete and Steel Surfaces, Dr. Genda Chen, Missouri S&T
Autonomous Ultrasonic Thickness Measurement by a Magnet-Wheeled Robot, Dr. Yang Wang, Georgia Institute of Technology
INSPECTION AND MAINTENANCE
Reinventing the Bridge Inspection Program, Dr. George Hearn, University of Colorado Boulder
Quantitative Bridge Inspection Ratings Using Autonomous Robotic Systems, Dr. Anil Agrawal, The City College of New York
AUTONOMOUS SYSTEMS
Mobile-manipulating UAVs for Sensor Installation, Bridge Inspection and Maintenance, Dr. Paul Oh, University of Nevada, Las Vegas
Climbing Robots with Automated Deployment of Sensors and NDE Devices for Steel Bridge Inspection, Dr. Hung La, University of Nevada, Reno
Autonomous Wall-climbing Robots for Inspection and Maintenance of Concrete Bridges, Dr. Jizhong Xiao, The City College of New York
Bridge Inspection Robot Deployment Systems (BIRDS), Dr. Genda Chen, Missouri S&T
WORKFORCE DEVELOPMENT
Training Framework of Robotic Operation and Image Analysis for Decision-Making in Bridge Inspection and Preservation, Dr. Ruwen Qin, Missouri S&T
Developing a Robotic Simulator and Video Games for Professional and Public Training, Dr. Siming Liu for Dr. Sushil Louis, University of Nevada, Reno
RETROFIT AND RESILIENCE
Bridge Resilience Assessment with INSPIRE Data, Dr. Iris Tien, Georgia Institute of Technology
---
Graduate Student Poster Session
INSPIRE graduate students from all consortium institutions attended the annual meeting. Participating students interacted with transportation professionals from the government and industry sector. A Graduate Student Poster Session was held, and offers students the opportunity to showcase their research, communicate results to other students, faculty and staff, engage with representatives from the transportation industry, and facilitate interdisciplinary work by exchanging knowledge and ideas between individuals from multiple disciplines.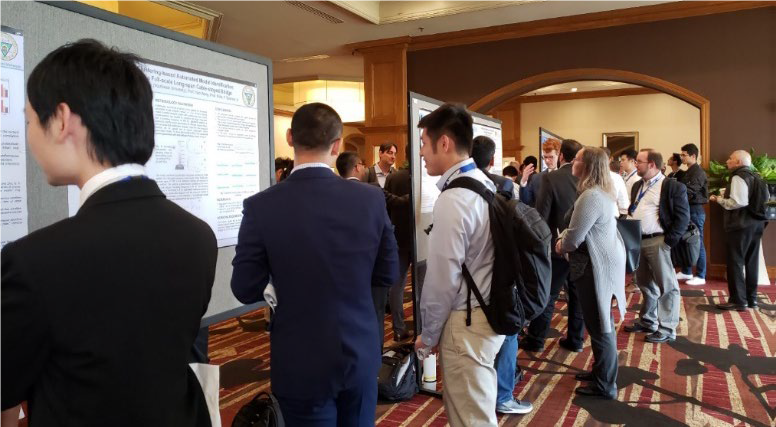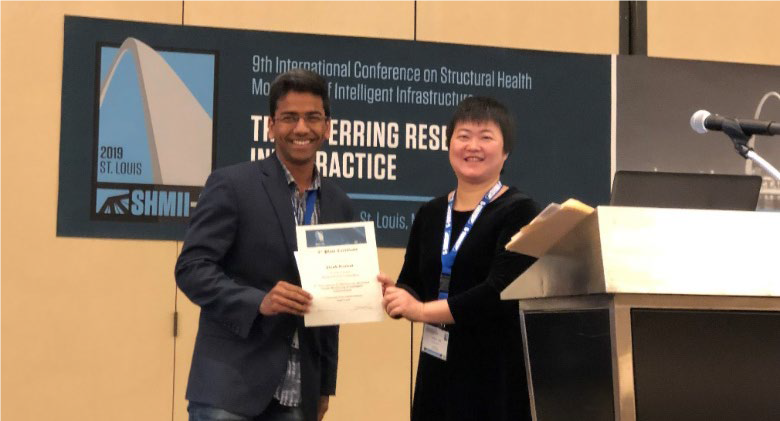 - Poster Session Award Winners -
The INSPIRE UTC External Advisory Committee members attending the annual meeting served as judges for the poster competition. First, second and third place awards were presented to the following students:
1st Place
Vedhus Hoskere, Yasutaka Narazaki, and B.F. Spencer Jr., University of Illinois at Urbana-Champaign
Learning to Detect Visual Defects Using Computer Graphics
2nd Place
Dan Li and Yang Wang, Georgia Institute of Technology
Dual-Mode Wireless Antenna Sensor for Strain and Crack Sensing
3rd Place
Vivek Kumar and Branko Glisic, Princeton University
Numerical Modeling of Early Age Cracks in Concrete for Long-term Evaluation of Structure
---
Posters