Biannual News Publication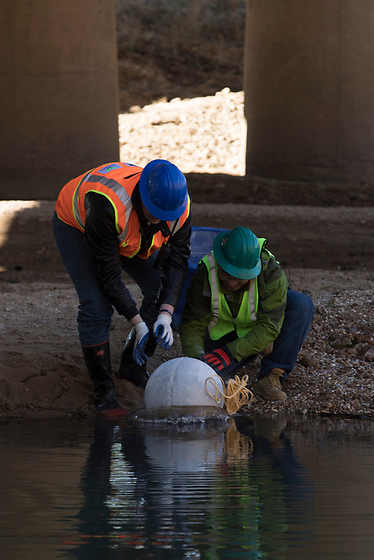 inspire's smart rock project featured in USDOT's utc spotlight

The USDOT's UTC Spotlight newsletter is a monthly publication that highlights recent accomplishments and products from one University Transportation Center. The March 2018 edition of the UTC Spotlight features the work of the INSPIRE UTC.
Led by Dr. Genda Chen, Professor and Abbett Distinguished Chair in Civil Engineering and Director of the INSPIRE UTC at Missouri S&T, the UAV-enabled Measurement for Spatial Magnetic Field of Smart Rocks in Bridge Scour Monitoring project is part of the INSPIRE UTC Research Program. This project was based on a previous study funded through the Commercial Remote Sensing and Spatial Information Technologies Program at the US Department of Transportation.
Read the full article online at: https://www.transportation.gov/utc/smart-rock-positioning-scour-hazard-assessment-bridges.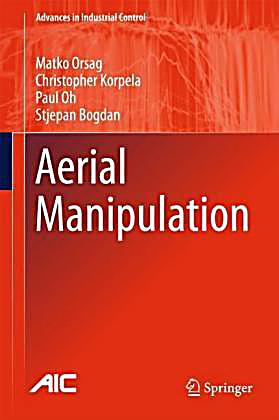 INSPIRE UTC Associate Director Co-Authors New Book
Aerial Manipulation is a recent publication co-authored by Dr. Paul Oh, Lincy Professor of Unmanned Aerial Systems at the University of Nevada, Las Vegas (UNLV), and Associate Director of the INSPIRE UTC.
"This text is a thorough treatment of the rapidly growing area of aerial manipulation. It details all the design steps required for the modeling and control of unmanned aerial vehicles (UAV) equipped with robotic manipulators. Starting with the physical basics of rigid-body kinematics, the book gives an in-depth presentation of local and global coordinates, together with the representation of orientation and motion in fixed- and moving-coordinate systems. Coverage of the kinematics and dynamics of unmanned aerial vehicles is developed in a succession of popular UAV configurations for multirotor systems. Such an arrangement, supported by frequent examples and end-of-chapter exercises, leads the reader from simple to more complex UAV configurations. Propulsion-system aerodynamics, essential in UAV design, is analyzed through blade-element and momentum theories, analysis which is followed by a description of drag and ground-aerodynamic effects." - http://www.springer.com/us/book/9783319610207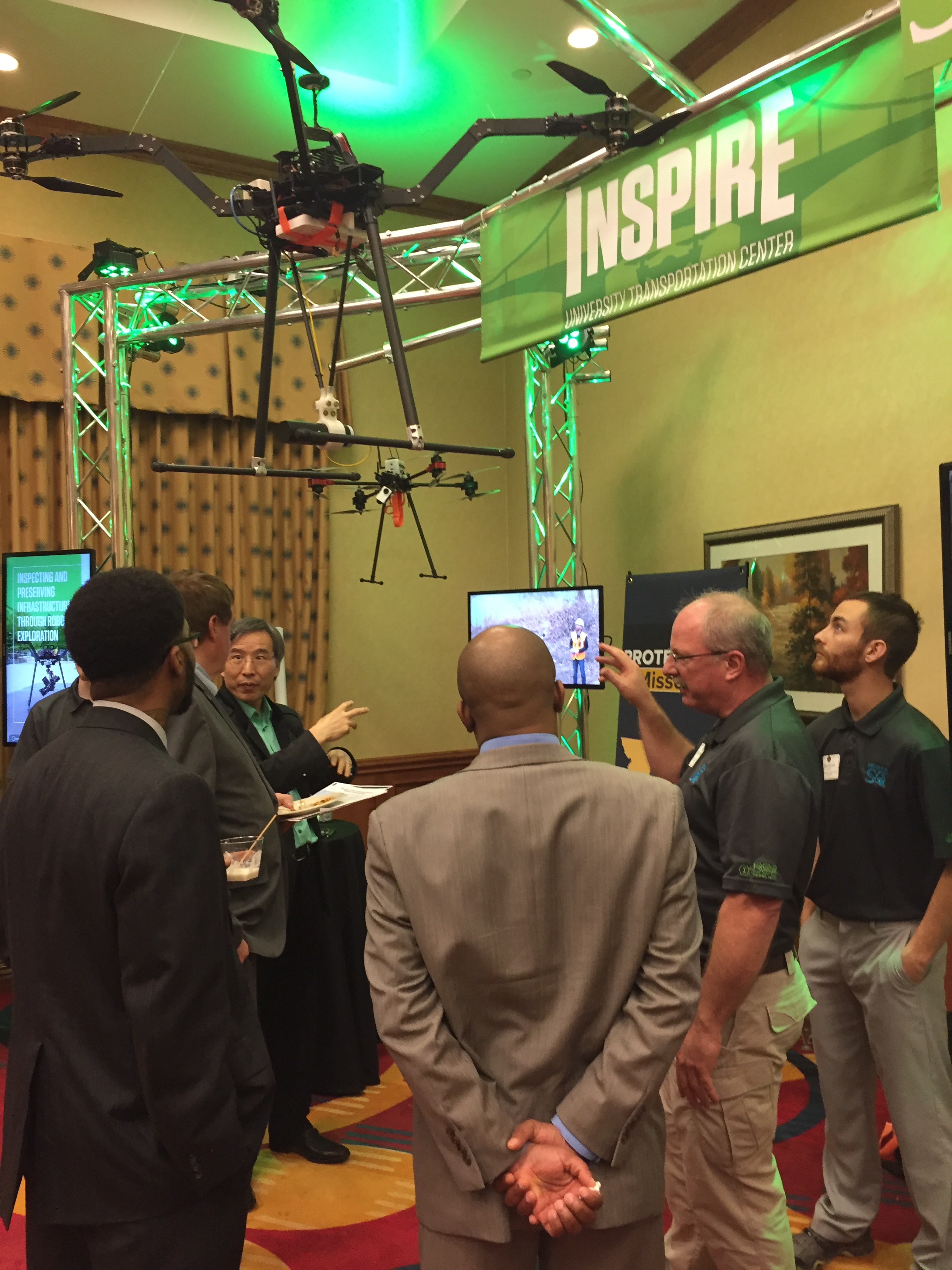 UM SYSTEM LEGISLATIVE SHOWCASE- FEBRUARY 28
The INSPIRE UTC held an exhibit at the inaugural UM System Legislative Showcase in Jefferson City, Missouri on February 28, 2018. The event highlighted the work of the UM System's four campuses to demonstrate the value that public higher education brings to Missouri citizens and communities.
Under the theme "Protecting Missourians", the INSPIRE UTC, led by Missouri S&T, showcased the work of the 10-university consortium, which addresses various challenges in the highway and railway system, including aging infrastructure. The exhibit highlighted INSPIRE UTC's leadership in research, education, workforce development and technology transfer aimed at infrastructure inspection and preservation solutions with advanced technologies for a sustainable and resilient transportation system.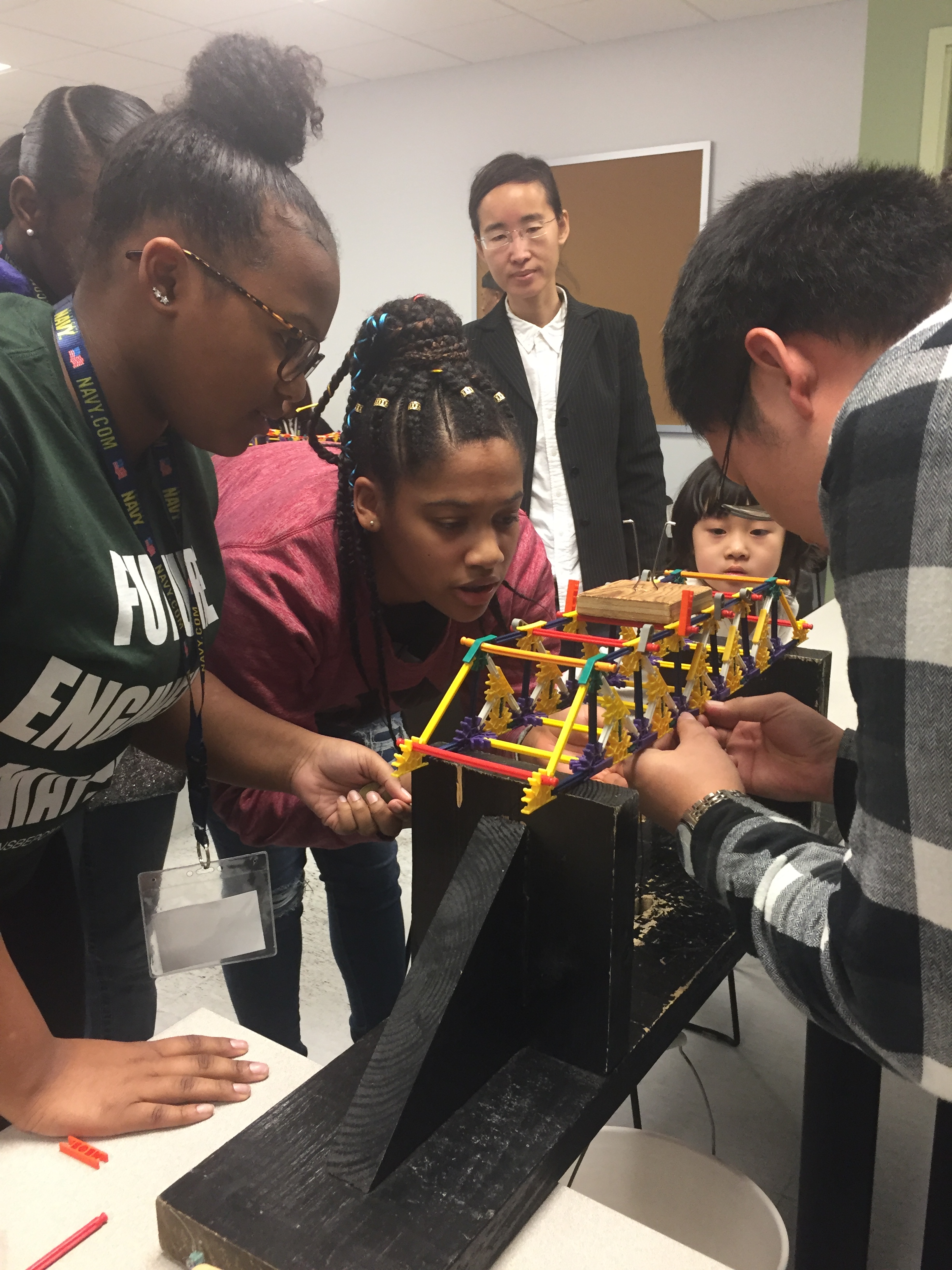 National Society of Black Engineers Pre-College Initiative- february 24

Faculty and students from the INSPIRE University Transportation Center (INSPIRE UTC) and Mid America Transportation Center (MATC) led a hand-on bridge engineering competition for 42 Missouri high school students as part of the National Society of Black Engineers (NSBE) Pre-College Initiative (PCI). PCI is an on-campus visit program for African-American students who may be considering a future career in math, science, computing or engineering. PCI is sponsored by S&T's student chapter of the National Society of Black Engineers and the Student Diversity Initiatives department.
The INSPIRE UTC's workshop was presented by Drs. Ruwen Qin, Grace Yan, and Dincer Konur, PhD students Hongya Qu and Xinzhe Yuan, and engineering management student Wenjin Tao. Participants were engaged in a hand-on bridge engineering competition, and visited the Virtual Reality lab for a demonstration of driver's behavior-related transportation research.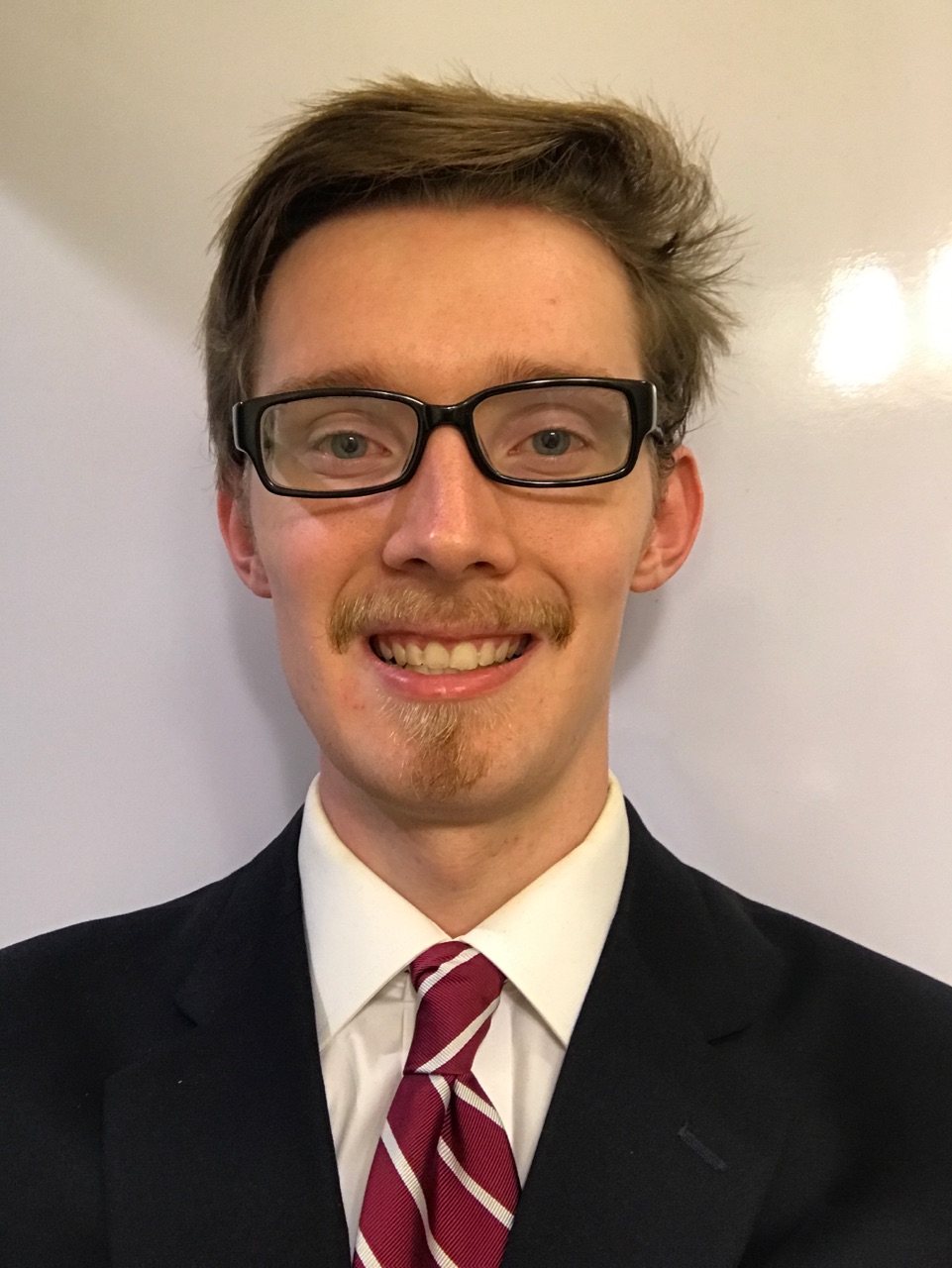 klegseth named utc outstanding student of the year
Matthew Klegseth, a doctoral student in civil engineering, has been named a University Transportation Center Outstanding Student of the Year by the U.S. Department of Transportation (DOT).
Klegseth is working with the INSPIRE University Transportation Center (INSPIRE UTC) while working on his dissertation, which examines the inspection and preservation of infrastructure through robotic exploration. His graduate adviser is Dr. Genda Chen.
Klegseth will receive the award in January in Washington D. C. at the annual winter meeting of DOT's Transportation Research Board. The award criteria includes accomplishments in areas such as technical merit and research capability; academic performance; and leadership.
For more information about DOT's Outstanding Student of the Year Award, visit https://www.transportation.gov/utc/2017-outstanding-students-year-0 .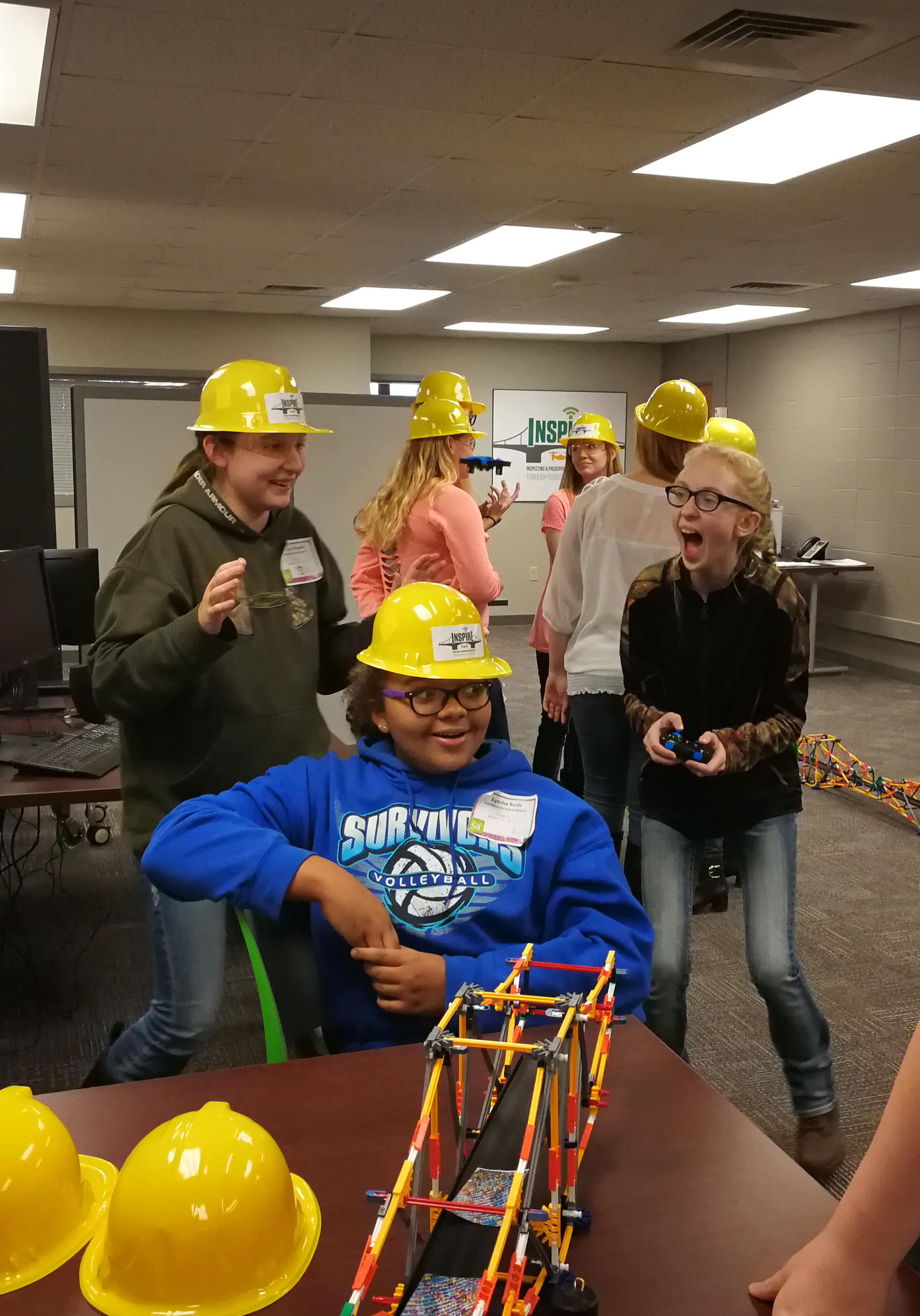 expanding your horizons - November 17
On November 17, 2017, the INSPIRE University Transportation Center (INSPIRE UTC) hosted a transportation-related robotics workshop on the Missouri S&T campus in Rolla, Missouri. The workshop, titled "Rescue the Bridge with Robotics" was part of the 2017 Expanding Your Horizons (EYH) Conference.
The EYH conference is an annual conference for 7th and 8th grade girls. It is designed to help participants better understand some of the many career choices they can explore in S.T.E.M. (Science, Technology, Engineering and Mathematics) areas. "EYH is a unique opportunity for Missouri S&T to make young girls aware of the new opportunities in S.T.E.M. and how they can make a positive impact on solving tomorrow's world challenges.", says Dr. Anthony R. Petroy, Vice Provost for Global Learning at Missouri S&T.
The INSPIRE UTC workshop introduced 30 young female students to the transportation industry in a memorable and fun way. Participants learned that traditional methods used to inspect and maintain bridges are time consuming and costly or even dangerous in some cases. They learned how to use advanced technology to perform inspections and make the process safer and more efficient.
The workshop was presented by Dr. Ruwen Qin, Associate Professor, Department of Engineering Management and Systems Engineering, Dr. Grace Yan, Assistant Professor, Department of Civil, Architectural, and Environmental Engineering, Hongya Qu, PhD Student, Department of Civil, Architectural, and Environmental Engineering, and Amy Gillman, Program Coordinator, INSPIRE University Transportation Center.
For more information visit http://pce.mst.edu/youth/eyh/ and http://inspire-utc.mst.edu/ .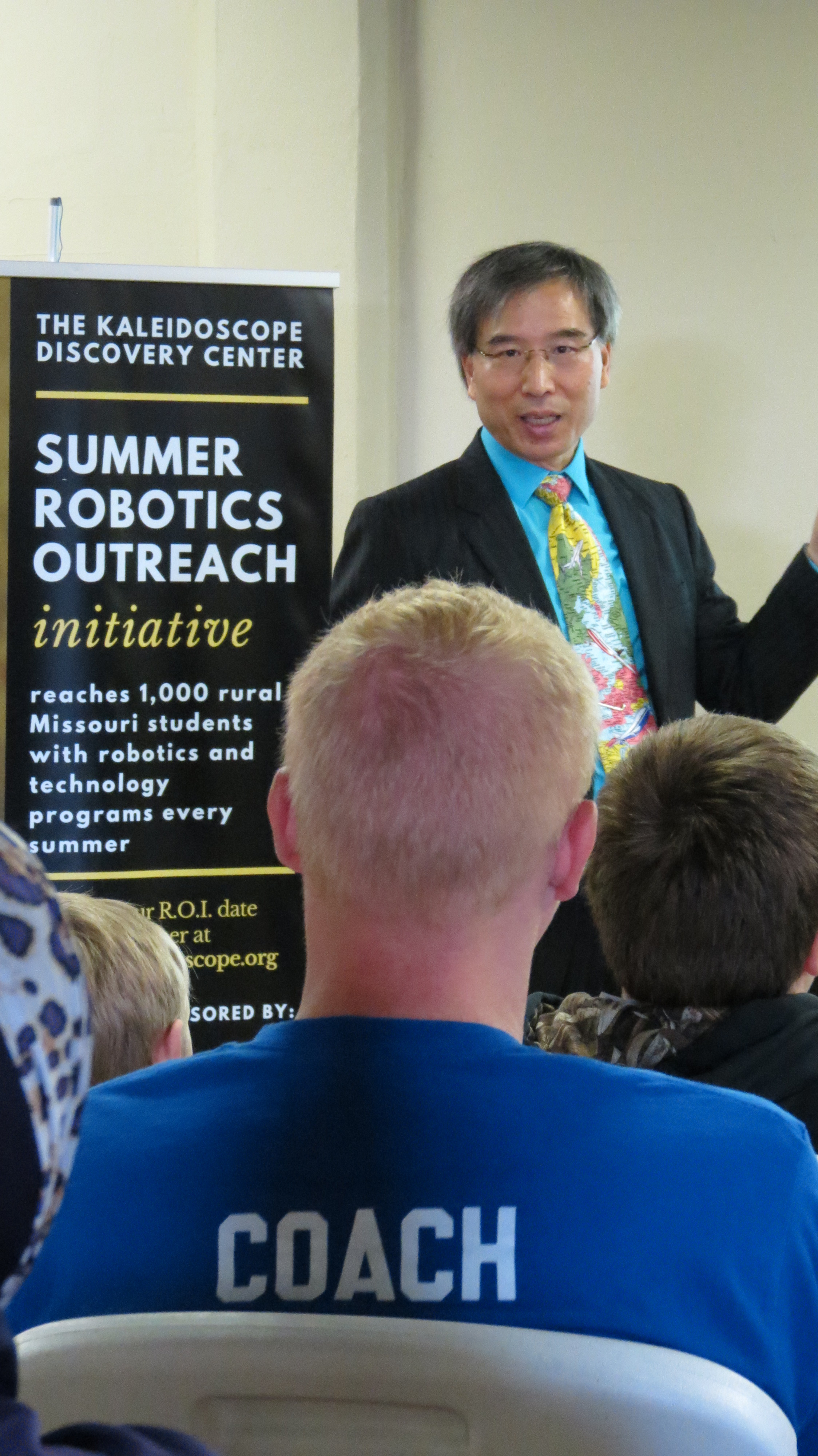 Kaleidoscope Discovery Center- October 14
On October 14, 2017, Dr. Genda Chen, Director of the INSPIRE University Transportation Center (INSPIRE UTC), presented information to the FIRST Lego League (FLL) robotics team and the FLL Junior robotics team at the Kaleidoscope Discovery Center in Rolla, Missouri. The presentation was part of the KDC's Saturday seminar series. Approximately 30 students ranging in age from 6-14 and their parents attended.
The KDC's mission is to provide opportunities that advance the understanding and appreciation of: engineering, science, technology, the environment, arts and math (ESTEAM); through hand's on learning experiences, which inspire everyone to imagine, explore and create a better world.
Dr. Chen's presentation introduced to the FLL teams the challenges associated with current bridge inspection methods, and the importance of improving these methods through the use of the advanced technologies currently being developed by the INSPIRE UTC, such as non-contact sensing, unmanned aerial vehicles and climbing robots used for bridge inspection and maintenance.
For more information visit the KDC at https://thekaleidoscope.org and the INSPIRE UTC at http://inspire-utc.mst.edu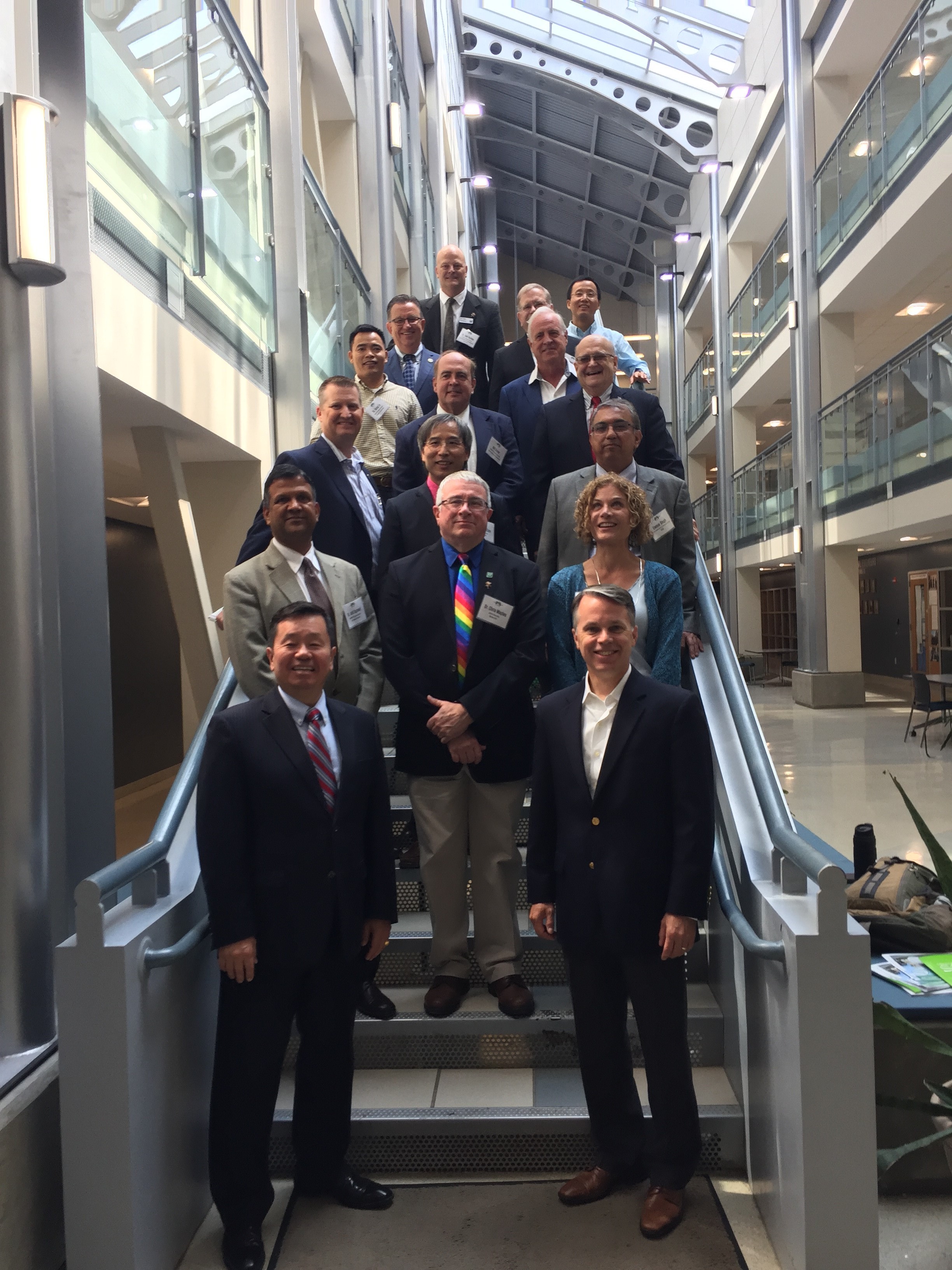 INSPIRE UTC Kickoff Meeting- September 1
On September 1, the INSPIRE University Transportation Center (UTC) held a kickoff meeting with representatives from the U.S. Department of Transportation Office of the Assistant Secretary for Research and Technology (OST-R). Other attendees included INSPIRE UTC associate directors from Missouri S&T, City College of New York, Georgia Institute of Technology and University of Nevada-Reno, external advisory committee members and Missouri S&T leadership and grant management support staff.
Following the business meeting, the INSPIRE UTC provided a demonstration of the unmanned aerial vehicles that will be used for robotic bridge inspection, led by the Missouri S&T MinerFly research support team. Participants toured the new INSPIRE UTC office and Applied Microwave Nondestructive Testing Laboratory in the Engineering Research Laboratory, and the System and Process Assessment Research, High-bay Structural Engineering Research, and MinerFly Laboratories in Butler-Carlton Civil Engineering Hall.
Following the tour, Missouri S&T held a luncheon to celebrate the launch of the new center. Guests included University of Missouri System President Dr. Mun Choi; Missouri S&T Interim Chancellor Dr. Chris Maples; Missouri Department of Transportation Director Patrick McKenna; Greg Smith, vice chair of the Missouri Highways and Transportation Commission; state Senator Dan Brown, whose district includes Rolla; and University of Missouri Curator David Steelman. Each spoke on the importance of the UTC mission and INSPIRE's potential impact on improving the maintenance and preservation of Missouri's transportation infrastructure.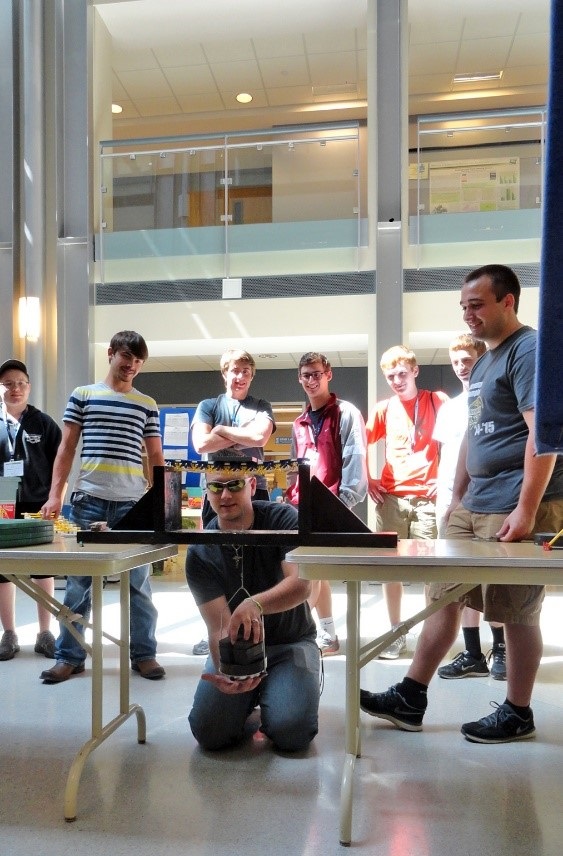 MoDOT Transportation Camp at S&T- July 18
On July 18, 2017, the INSPIRE University Transportation Center (UTC) held a one-day MoDOT Transportation Camp on the Missouri S&T campus as part of MoDOT's annual 6-day Youth Transportation Conference. Each summer MoDOT selects 30 students from across the state to participate in the camp exposing them to numerous career opportunities in the field of transportation.
Attendees spent a full day visiting S&T and explored a variety of topics related to transportation. The INSPIRE UTC showcased exciting research related to driver's behavior simulation, sensor applications in bridge condition assessment, the use of robotics in bridge maintenance, and potential effect of tornados on transportation structures. Following a welcome address by the center's associate director, Dr. Suzanna Long, students attended a series of activities coordinated by Dr. Ruwen Qin and organized by the INSPIRE faculty members: Drs. Genda Chen, Dincer Konur, Grace Yan, and Zhaozheng Yin. Students toured S&T's Virtual Reality (VR) Laboratory, Wind Hazard Mitigation (WHAM) Laboratory, and the System and Process Assessment Research (SPAR) Laboratory. Students also participated in hands-on activities in the VR, WHAM, and SPAR Labs, and attended a demonstration presentation in the CVBI Lab.